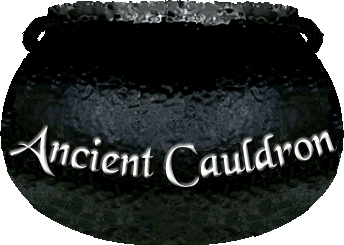 What's New?
Up dated January, 2012
New to the Site? Check out the Site Map.
Ancient Cauldron is a teaching Coven. The philosophy and teachings are Eclectic. The Coven is dedicated to the advancement of the acceptance of Witchcraft through the education of our neighbors and the open gatherings of the Pagan-Wiccan communities to share together during Sabbats.
Ancient Cauldron has sponsored many, PNO's (pagans night out), open circles, gatherings, festivals and other events with the goal of bringing those of like mind and spirits in unity and celebration. Please see our Open Circle Guidelines and Ethics before attending any event. We offer open, on-going study and sharing groups and "Pagans Night Out" events. Join us and meet others of like mind and spirit. Also available are Witchcraft 101 and 13 Moons Series: Individual classes and Coven training offered by invitation only. You must meet with one of us prior to acceptance OR attend a Class Introduction Session.
Ancient Cauldron has several members who are legally ordained ministers available for all "Rites of Passage". Let us help you make each passage a very special one, as they should be. We have some wonderful ideas for over one hundred different passages in life, from conception through the final passage.
Most Ancient Cauldron members are "Out of the Broom Closet". Ancient Cauldron members are also available for lectures or discussion groups on Paganism, Witchcraft/Wicca, Divination, Crystals, Spiritual Healing, Meditation, etc. We also provide a variety of altar displays to help in educating our beliefs. If you know of a group, organization or event that would be interested in having one or more of the above topics discussed, please contact us at:
Ancient Cauldron is located in Northern California. Events are usually held in Sacramento County or west El Dorado County.

Note: Currently our main coven is not hosting any open/public events, although you can find many of our members attending and/or helping with events throughout our community. We will be posting open events soon.
May the Light and Love of the Lord & Lady,
Our God & Goddess guide you!
So Mote It Be!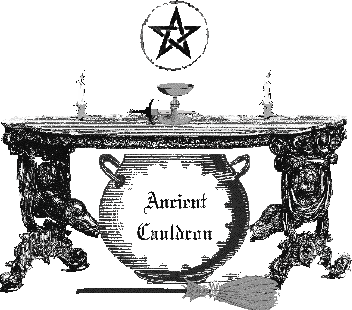 What's New?
Jan 2012
Happy New Year everyone! I hope you all had a safe and fun holiday season.
The biggest update to the site right now is the updated and improved Moon Phases page. Now, the page contains information for 2012 and 2013. It covers full and new moons, including the Medieval English, Wiccan, and Celtic names for each full moon, as well as the dates and times for the quarter moons, sabbats, equinoxes, and solstices.

Dec 2011
Hi everyone! I hope you all have a wonderful 2011. I know everyone is getting ready for the rush that Yule can be. I hope the all of you find a nice bit of space out of the cold by the warm fire with your family, in every form you can find it.
We do have have some updates for the website coming up. One of the biggest ones is the introduction (or reintroduction if you visited the old version of it) of our High Priestess' site, GailDettmar.com. Here you can find out more about the services offered by WinterSky, as well as her upcoming readings and apperances.
Newest pages updated:
Supply Stores

July 2011
We are currently updating all our pages and hope to have this done by the end of this month. Then we will begin adding more info to many sections of our website as well as lots of new pages.

Since we have been getting many requests for on-line classes we are currently working on just that :-)
Announcements will be posted with all the details as we get our schedules adjusted to manage this project.
Newest pages added:
Love and Pleasure
Pagan Manners
Coven or Not
Psychics Trick or Treat
News and Tidbits

We are proud to share that we are temporarily hosting the webpage for Cornucopia, the pagan food locker, for the greater Sacramento, CA. area.
Pagans Who Care.
Have you or your group done anything that has helped the pagan community? Do you know anyway the pagan community has reached out to help? Let us know for the Pagans Who Care page.


All art on this site, unless otherwise noted, came from the talented



Top cauldron created by Webmistress
Cauldron with table created for Ancient Cauldron by Dede Hessee
Last updated July 8, 2014
Contents © 1999-2007 by Ancient Cauldron. All rights reserved worldwide. Ancient Cauldron shall not be liable in the event of incidental or consequential damages arising from the use of information supplied herein. This website is privately owned and not associated with a corporation or non-profit organization. If you have any comments or questions about this webpage, please email our Webmistress.
We have done our best to note copyright when possible on this site. If you see material that is uncredited or credited incorrectly, please let us know.